TECHNICAL SERVICE AND WARRANTIES
Extended Warranties
Do you worry about missing deadlines when a critical piece of finishing equipment goes down? How much does downtime reduce your profits? Do you want to control your annual service costs? If so, our Extended Maintenance Agreements (EMA's) are the solution. Your finishing equipment will be supported by our team of factory trained technicians in order to better protect you against the worst.
Our EMA's Incorporate:
All machine lubrication, maintenance, and cleaning
Unlimited parts and labour warranty*
All machine adjustments & safety checks as required
Installation and testing of all parts required to ensure correct machine operation
Operator & maintenance training during calls if required
At least one preventative maintenance visit per year
Preventative maintenance is critical to:
Reduce equipment downtime
Plan maintenance around scheduled work
Improve production efficiency
Increase equipment life
Enhance your profitability
Avoid costly downtime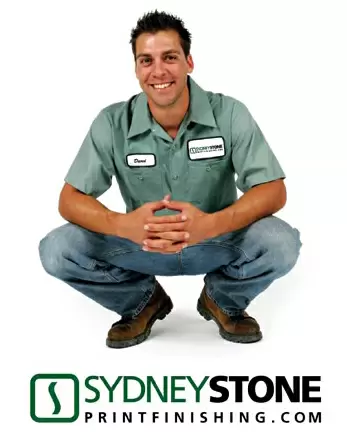 TERMS & CONDITIONS
Geography
Extended Maintenance Agreement's (EMA) may be provided with equipment installed within close proximity to the metro areas of: Toronto, Niagara, London, Ottawa, Vancouver, Montreal, Calgary, Edmonton, Winnipeg, Regina.
Eligibility for an EMA is at the sole discretion of Sydney Stone –speak with your sales representative for details.
Coverage
Not all of our equipment is automatically included in the EMA. Please speak with your sales representative to confirm if your chosen piece of equipment is eligible under the EMA.
Automatic renewals for successive 1-year period, unless the purchaser provides Sydney Stone with a notice of intent not to renew. This must be done 30 days prior to the next annual anniversary of the effective date.
Consumable parts such as, but not limited to, knives, cutting sticks, drill blocks, drill bits, glass, fold roller, belts, etc. are not covered under the EMA.
Sydney Stone is not responsible for any loss or consequential damaged of any kind, including, but not limited to, lost profits or other economic injury, due to defects in workmanship or material of the product.
Terms
Automatic renewals for successive 1-year period, unless the purchaser provides Sydney Stone with a notice of intent not to renew. This must be done 30 days prior to the next annual anniversary of the effective date.
Blade Change Program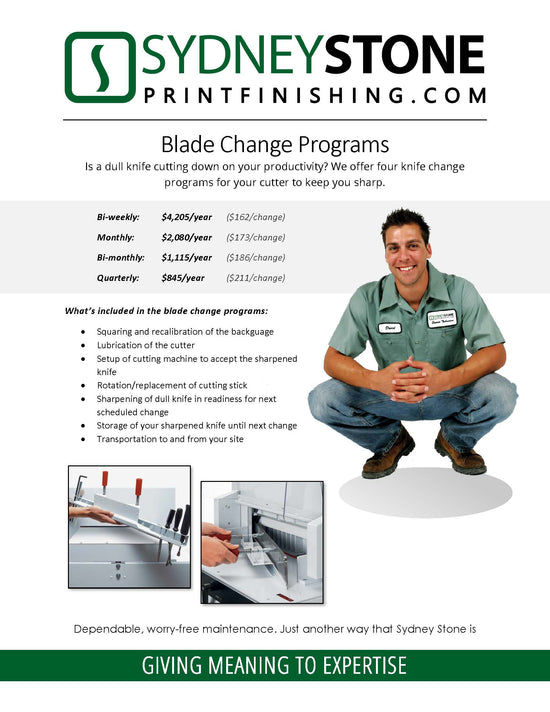 Our Service Team
As your full-service dealer Sydney Stone's experienced, factory-trained, technicians can completely manage your maintenance on all models of equipment via our Extended Warranty Agreements, knife change programs or as required time and materials service. Our team of service people are supported by an in-shop service manager and an inventory of over 1,000 parts to help achieve our goal of getting your equipment back up and running quickly. To place a service call you can contact us through the website or you can call us toll free and ask for the Service Coordinator.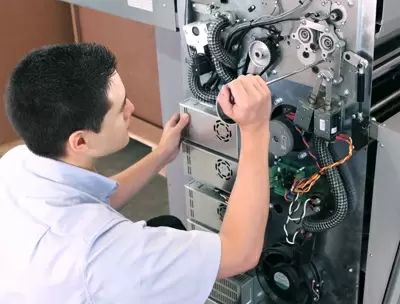 Our service technicians have a background as electro-mechanical engineering technicians and as such are skilled in diagnosis and resolution of electrical, hydraulic and mechanical faults.
Our service team firmly believes firmly in the value of supporting our customers when their equipment is not operating per the manufacturers' specifications. We deeply value our partnership with you and will do our best to ensure that your working capital equipment is running efficiently as you strive to meet your customers' expectations.
To book a service call or ask about our service programs please contact us or call Toll Free 1-800-668-6055
Service Facility
Our service facility offers a fully enclosed space within our Mississauga and Vancouver offices to support you, our valued customer. Within these walls we schedule service calls, perform pre-delivery inspections, complete rebuilds of equipment and offer telephone technical support. This facility is equipped with a wide variety of tools and machinery that we need in order to completely rebuild, repair and inspect our equipment.
At our service facility, we conduct pre-delivery inspections on all equipment that is sold by Sydney Stone. Our factory trained service technicians will remove each machine from its packaging conduct a range of testing on the machine and then prepare it for shipment to you.
Our service facility is also a busy hub for rebuilding finishing equipment. Sydney Stone understands that buying pre-owned equipment provides your business with a more affordable option and we currently maintain one of the largest inventories of reconditioned small format finishing equipment in Canada. We are proud of our onsite rebuild center, which allows us to properly assess, clean and fully recondition the equipment back to its factory tolerances. Our technicians are factory-trained and spend the time to ensure that you receive a machine that is ready for the rigors of current on-demand production requirements.
Sydney Stone does not stop at the reconditioned process. All machines come with a complete set of accessories, tools and manuals that would have been supplied with a new machine.
Our fully enclosed and climate controlled rebuild facility offers our technicians the comforts they need in order to be focused and dedicated to completing excellent rebuilds.